Press Releases
Hern announces High School Art Competition Winners
TULSA, OK – This afternoon, Representative Kevin Hern (OK-01) announced the winners of the 2020 Congressional Art Competition for high school students. Each Congressional district selects a winner whose piece hangs in the United States Capitol Building for a full year. Rep. Hern will hang the second-place piece in his personal office.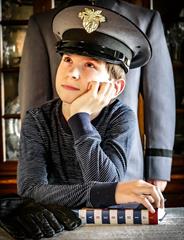 1st Place: Liam Puls (10th grade), Serve to Inspire
Oklahoma School of Innovation and Experiential Learning
2nd Place: Emily Olinske (12th grade), Soldier
Victory Christian School
3rd Place: Anh Truong (10th grade), Peace
Victory Christian School
Honorable Mention: Lauren Simmons (10th grade), The Dream Catcher
Victory Christian School
"Congratulations to these incredibly talented students!" said Rep. Hern. "Every piece submitted was very well done and shows the tremendous talent we have here in Oklahoma. Thank you to my judges for adapting to a new virtual system and for all the students and teachers who participated, successfully keeping the spirit of this competition alive in spite of school closures. The selection committee had some hard choices to make, but I'm a big fan of the pieces they selected and I look forward to seeing Liam's artwork in the halls of the Capitol Building."
Background Information:
More information on the Congressional Art Competition can be found here.